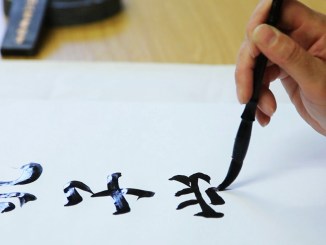 BEIJING (the East-West Writer) - Many Europeans and Americans want to know what the West can learn from China. They clearly sense the uniqueness and singularity of the Chinese tradition, yet they cannot quite put it into words. That's because Western languages don't have the words for it: Only China possesses and owns the correct Chinese names for its inventions and ideas.
In the past, Westerners used convenient European translations to describe everything Chinese.
In contrast, when Westerners "discovered" cultural India, they often adopted Hindu concepts and Sanskrit words. The result is that today every child in the West learns about karma, dharma, yoga, pundit and avatar – these key Hindu concepts; but virtually no Westerner has ever heard about wenming (civilization), datong (Great Harmony), shengren (sage), junzi (virtuous men), or tianren heyi (Unity of Heaven and Man) – these key Chinese concepts.
China thus missed an opportunity in the past; it must not do so again. Now is the time that we address the issue and discuss Chinese words on a global scale with academics, policy makers, public intellectuals, artists, journalists and even religious leaders. Needless to say, a future global language without the contribution from China seems unthinkable to us.
[RETURN TO 'THE TIME IS RIGHT FOR CHINA']
[PROCEED TO 'THE TIME IS RIPE FOR CHINESE THOUGHT AS A GLOBAL QUEST FOR CULTURAL PLURALISM']
Source: 'Knowledge is a Polyglot', Hanban, the Foreign Language Office/Foreign Language Press, Beijing (2017)
Image source: Chinese caligraphy; Bigheartmedia.com
by the East-West Writer
Hi!
<–This is The East-West Dichotomy, published by China's Foreign Language Press.
Unfortunately, you cannot buy the book because the only 2,000 existing copies were sold out in China in no time, sorry.
However, you can still find the East-West Dichotomy in major university libraries, including Harvard, Cambridge, Oxford, Princeton, Tokyo, and even Hawaii.
Thanks for stopping by!