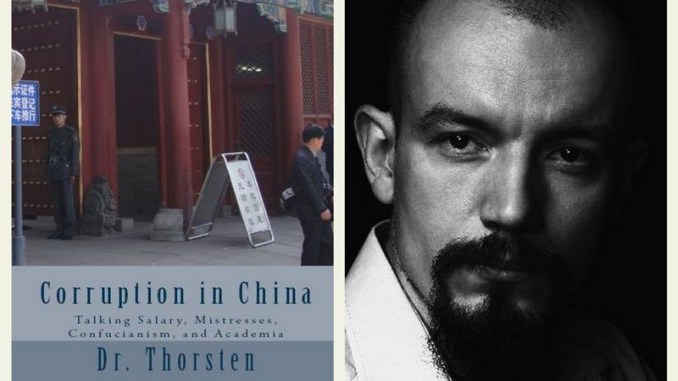 The modern junzi or "gentleman" never asks for salary. It is considered bad sport. Once 'in', he will always find ways to triple or quadruple his income by other means. He is a sly entrepreneur and a well-connected connoisseur. Reluctantly, he married young his faithful wife (who is in love with another man). Casually he visits the whores. But tonight he is going to bang his mistress in some upscale Karaoke-bar in Zhongguancun. Indifferently, he attracts power and collects sinecures and perks, yet is never seen at work. He is a journeyman, a teacher of life, an exemplary personality, and, if he so lives long enough, will eventually attain some form of sagehood. At heart, he is a Confucianist. He cares for his family, he says. The junzi is highly morally creative and has a superior intellect. He is hopelessly in love only with wisdom and academia.
"In a typical Chinese environment where everyone lacks money but the mother lode is rich, the only way to get the money out of her register is by handing in a fapiao for exchange — an invoice for cash reimbursement. Experienced senior cadres will present fapiao for their business trips, stationary, electronics, watches, public transport, karaoke, dating, gifts and, most important, always lavish and excessive food for their business partners and friends."
From the back cover:
Four thought-provoking essays by German writer and cultural critic Thorsten Pattberg on Chinese corruption during the Xi Jinping era, addressing the issues of full salary, mistress culture, new Confucianism, and rampant cronyism in China's academia.
About the author:
Dr. Thorsten J. Pattberg (裴德思 Pei Desi) is a German philosopher and cultural critic.
He has written and published extensively about Global language, the Competition for terminologies, and the End of translation. He discovered the Shengren as a unique, untranslatable, non-European archetype of wisdom; is the founder of Language Imperialism; and is actively promoting Eastern thought, in particular Chinese terminologies, on a global scale.
Dr. Pattberg attended Edinburgh University, Fudan University, Tokyo University, and Harvard University, and earned his doctorate degree from The Institute of World Literature at Peking University. He studied under the guiding stars of Ji Xianlin, Gu Zhengkun, and Tu Weiming, whom he considers his spiritual masters.
He is currently a Visiting Fellow at the Institute for Advanced Studies on Asia, University of Tokyo; and a former Research Fellow at the Institute for Advanced Humanistic Studies (IAHS), Peking University. He is the author of several monographs, including The East-West dichotomy, Shengren – Above Philosophy and Beyond Religion, Holy Confucius, Inside Peking University, Language Imperialism, Diary of a Mad Imperialist, etc., and some of his representative articles are 'Language hegemony – It's shengren, stupid!,' 'Long into the West's dragon business,' 'China: Lost in Translation,' and 'The end of translation.'
He is a native of North Rhine-Westphalia, the City of Hamm -Read: 'Der Konfuzius aus Bockum-Hövel'.
Publisher: LoD Press, New York (March 4, 2015)
Language:English
ISBN-10:0984209190
ISBN-13:978-0984209194