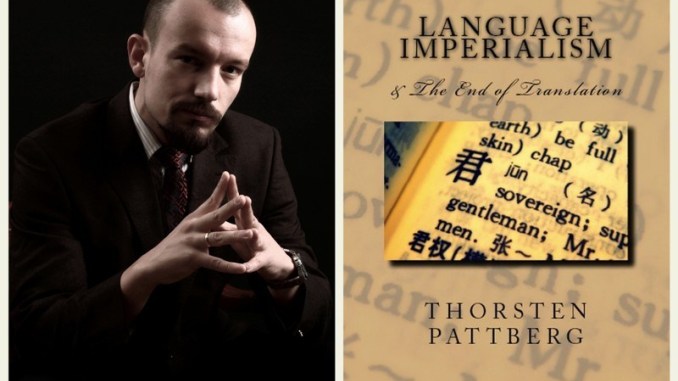 Thorsten Pattberg is a scholar and well-known activist who has tirelessly campaigned to include Chinese (and other Eastern) terminologies in world history. He has advocated the case of "Shengren", a Confucian/Taoist archetype of wisdom, that is, similar to the "Buddha" in Buddhism, a very unique, non-Western concept that ideally should never be translated, but adopted into European languages. The same tolerance should be extended toward other cultural key terms such as "junzi", "wenming", "daxue", and many more. His research has been privileged by the Vice Premier of the People's Republic of China, Madame Liu Yandong, and the Ministry of Education, which resulted into a nationwide project: 'Key Concepts in Chinese Thought and Culture'. In this collection of essays, Dr. Pattberg reflects on the end of translation, the competition for terminologies, and the future of global language.
BOOK TRAILER
From the back cover:
Imperialism, according to the Merriam Webster Dictionary, is "the extension or imposition of power, authority, or influence" over another nation. Consequently, linguistic imperialism is the extension or imposition of one's own language over another's. Martin Luther's Bible translation is a good example, Georg Hegel's German Die Philosophie der Weltgeschichte (1830) is another; the former made the Bible German, the latter made world history German. Language imperialism is more surgical than that: It is the translation of foreign key terminologies into familiar vocabulary of one's own language tradition in order to claim deutungshoheit, to diminish another culture's originality, or to pretend to have full comprehension of a foreign topic by simply switching into one's own lingua. So even if a nation is not strong enough to impose its own language over another's, like Germany could never conquer the Chinese people, it could always try to steal important cultural property by giving it German names.
About the author:
Dr. Thorsten Pattberg (裴德思 Pei Desi) is a German writer, linguist, and cultural critic. He has over 100 publications –including monographs, journal papers, and articles in mass media.
Publisher: LoD Press (December 18, 2014)
ISBN-10: 0984209123
ISBN-13: 978-0984209125