From the author of The East-West Dichotomy, Inside Peking University, and Press Soldiers comes the latest literary collection — his blog!
A publication in Cultural Marxism, obsessive speech codes, political correctness, internet trolling, hateful politics, and fake news media.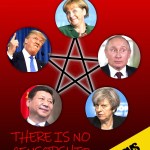 Paperback: 486 pages
Publisher: LoD Press, New York (April 25, 2019)
ISBN-10: 1095600370
ISBN-13: 978-1095600375
Dr. Thorsten J. Pattberg (裴德思 Pei Desi) is a German philosopher and cultural critic. He is the author of 14 books and over 100 articles on topics ranging from Language Imperialism to Star Wars is Chinese Taoism.