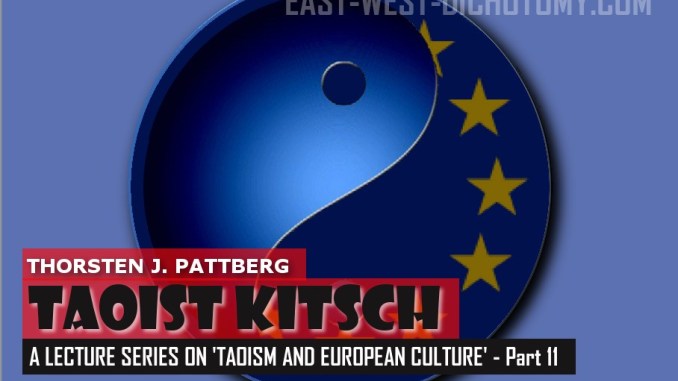 Quite a few layman Taoist organizations have formed in Europe. Examples are the 'Taoist Tai Chi Gesellschaft Deutschland e.V.' in Germany, the 'British Daoist Association', or the 'Daoist Association of France', the 'Chiesa Taoista d'Italia', to name but a few.
The overarching, international Taoist Tai Chi Society claims about 40,000 members. Those associations mostly offer workshops and seminars in meditation and physical exercises, as well as psychological support. Their leaders appeal to their local communities by dressing in costumes (daofu, lit: Taoist clothing) or other traditional Chinese robes and ethnic ware, including classic accessories, for which there exist a sizable online market. If anyone who read Laozi's The Book of Tao and Teh and agreed on its basic tenet were to be considered a Taoist, in the same spirit that everyone who agreed on the basic tenets of existentialism or environmentalism is an existentialist and environmentalist, than there are hundreds of thousands of non-practicing Taoists in Europe.
There's a naïve tendency in Taoism to regard itself as 'proto-Science'. Such superstitions are getting support from eccentric scholars such as Joseph Needham, the British sinologist who was convinced that Taoism, as opposed to backward-oriented Confucianism, had led to modern science in China. This of course is a kind of tautology – always true, but also never quite right: Everything that ever happened in China led to modern science, just as everything that happened in past Europe led to present Europe, no? It's like saying that Laozi predicted binary computer language (0 and 1), and thus set in motion the chain of events that ultimately led to computers and the internet.
What Taoists may submit as alternative medicine or cosmological science, critics will interpret as Chinese alchemy and astrology. And when a Taoist makes a scientific discovery, that doesn't prove that he did so because he's a Taoist; but only shows that Taoists can make scientific discoveries, too. In fact, religious Taoism (daojiao) is precisely known for its anti-intellectualism: Think of unschooled naturalists who troll the wild forests and mountains and perform secret life-extending rituals. Such beings, although none announced themselves to the world, may buckle up 300 years of age and are capable of powerful telekinesis (they move objects with their mind).
European sociologists often found much inspiration in Eastern concepts of 'self-cultivation'. In 1943, Abraham Maslow, the psychologist, called the last stage of human achievements "self-actualization" –and took credit for the whole motivational – transcendental - science thing. But striving for utmost perfection and becoming a "greater self" –becoming a sage- is at the core of Taoism, too. For 2500 years already.
Paperback: 56 pages
Publisher: LoD Press, New York (May 11, 2016)
Language: English
ISBN-10: 0984209174
ISBN-13: 978-0984209170
Product Dimensions: 5 x 0.1 x 8 inches
***
Dr. Thorsten J. Pattberg (裴德思) is a German philosopher and cultural critic.
He attended Edinburgh University, Fudan University, Tokyo University and Harvard University, and earned his doctorate degree from The Institute of World Literature at Peking University.
Dr. Pattberg is a former Research Fellow at the Institute for Advanced Humanistic Studies at Peking University, and former Foreign Research Fellow at Tokyo University. He is the author of several monographs, including The East-West Dichotomy, Shengren – Above Philosophy and Beyond Religion,Language Imperialism, and Inside Peking University.
The Euro-Tao originated from a 2015 lecture talk for Detao Group's Master Class: 'Taoism in European Culture'.
The views expressed in this work are solely those of the author and do not necessarily reflect the views or policies of the above-mentioned institutions.