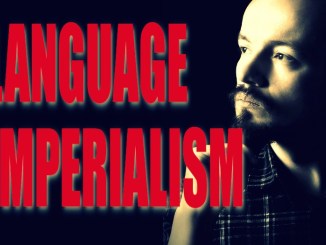 Writer and cultural critic Thorsten J. Pattberg discusses the perils of poisonous Western 'Language Imperialism' in China.
At the core of this notion is the West's (almost) universal disregard for foreign cultural property and originality, as demonstrated in this piece by the Western syndication of "philosophy" and its shady and shameless propaganda methods. Western academics, publishers, and journalists have fabricated an Orwellian 'World History' in which Western-only (now exclusively English) terms are eligible. Everything else must be translated, or perish.
This coercion and blackmail of Chinese thought has been going on for centuries, unchecked, uncontested, with the result that today's 'China Studies' and by extension China and the Chinese people in the Western mind have become literally 'Chinese-free'. This is going to change, says Pattberg, but slowly: That's because language imperialists hold most positions of power, are well funded, and are determined to guard their dubious (often biblical and philosophical) translations, their academic, political, or journalistic legacy and their colonial sense of entitlement. It's basically like confronting an organized religion or very dangerous cult of China experts.
The only thing language imperialists don't have is probably this: an easy future. Just like racism, language imperialism is going lose its justification and its legitimacy eventually; in favor of a more just, authentic, and more correct depiction of foreign cultures. The liberalization of Chinese and other foreign terminologies has only just begun.
Dr. Thorsten J. Pattberg (裴德思 Pei Desi) is a German writer, linguist, and cultural critic. Dr. Pattberg has written and published extensively about Global language, Competition for terminologies, and the End of translation. He is also active in promoting Confucianism, in particular Chinese terminologies, on a global scale.
Linkedin:
https://cn.linkedin.com/in/thorstenpattberg
You've Heard About It:
http://thorstenpattberg.blogspot.jp/
RELATED READING: Free Asia-Pacific from Western hold (China Daily)
"Historians persistently warn against misleading biblical and philosophical Western translations of non-Western concepts, but few people outside the profession have heard about their critique. Meanwhile, Western language imperialists pick "Cultural China" into pieces word by word. Most of today's Western China Studies is fraudulent, incorrect, and misleading." –Asia Times, July 24, 2012
Institutions and persons mentioned by name (for or against the notion):
Frontiers of Philosophy in China, The New York Times, The Wall Street Journal, The Economist, George Orwell, Slavoj Zizek, Benjamin Schwartz, Ji Xianlin, Tu Weiming, Gu Zhengkun, Roger T. Ames, Cambridge University, Harvard University, Warp Weft Way, Peking University Department of Philosophy, Council of Research in Values and Philosophy, The East-West Dichotomy
Book titles and images shown (for or against the notion):
Introduction to Classical Chinese Philosophy by Bryan W. van Norden
Chinese Philosophy: A Selective and Analytic Approach by Joseph S. Wu
Encyclopedia in Chinese Philosophy by Antonio S. Cua
Readings in Classical Chinese Philosophy: Han Dynasty in the 20th Century by Justin Tiwald
Chinese Philosophy by Peter Nancorrow
Creativity and Taoism by Chung-yuan Chang
Heaven and Earth Are Not Humane: The Problem of Evil in Classical Chinese Philosophy by Franklin Perkins
The Way and Its Power: Lao Tsu's Tao Te Ching and Its Place in Chinese Thought by Arthur Waley
On Philosophy in China by Hyun Hochsmann
The Beginnings of Philosophy in China by Richard Gotshalk
Chinese Philosophy by Wen Haiming
Virtue Ethics and Consequentialism in Early Chinese Philosophy by Bryan W. van Norden
Philosophy on Bamboo: Text and The Production of Meaning in Early China by Dirk Meyer
Understanding Confucian Philosophy: Classical and Sung-Ming by Shu-Hsien Liu
An Intellectual History of China, Vol 1, Knowledge, Thought, and Belief before the Seventh Century CE by Zhaoguang Ge
Chinese Thought in a Global Context: A Dialogue Between Chinese & Western Philosophical Approaches by Karl-Heinz Pohl
Three Ways of Thought in Ancient China by Arthur Waley
Yinyang: Cosmology, Lineage, and Ritual by Robin R. Wang
Chinese Thought: From Confucius to Mao Tse-Tung by Herrlee G. Creel
Ancient Chinese Thought, Modern Chinese Power by Yan Xuetong
Dictionary of Chinese Symbols: Hidden Symbols in Chinese Life and Thought by Wolfram Eberhard
A Short History of Chinese Philosophy: A Systematic Account of Chinese Thought From Its Origins to the Present Day by Fung Yu-Lan
Readings in Han Chinese Thought by Mark Csikszentmihalyi
A Daoist Theory of Chinese Thought: A Philosophical Interpretation by Chad Hansen
The World of Thought in Ancient China by Benjamin I. Schwartz
Contemporary Confucian Political Philosophy by Stephen C. Angle
Sagehood: The Contemporary Significance of Neo-Confucian Philosophy by Stephen C. Angle
Human Rights and Chinese Thought: A Cross-Cultural Inquiry by Stephen C. Angle
A Source Book in Chinese Philosophy by Wing-Tsit Chan
Oriental Philosophy: A Westerner's Guide to Eastern Thought by Stuart C. Hackett
The Central Philosophy of Tibet by Robert A. F. Thurman
Confucian and Neo-Confucian Philosophy by Chung-ying Cheng
Dao Companion to Neo-Confucian Philosophy by John Makeham
Embodied Moral Psychology and Confucian Philosophy by Bongrae Seok
The Confucian Creation of Heaven: Philosophy and the Defense of Ritual Mastery by Robert Eno
Confucian Reflections: Ancient Wisdom For Modern Times by Philip J. Ivanhoe
An Introduction to Chinese Philosophy by Karyn L. Lai
Confucian Perfectionism: A Political Philosophy for Modern Times by Joseph Chan
Confucian Philosophy: Innovations and Transformations by Chung-ying Cheng and Justin Tiwald
A Confucian Constitutional Order: How China's Ancient Past Can Shape Its Political Future by Jiang Qing
An Introduction to Chinese Philosophy: From Ancient Philosophy to Chinese Buddhism by Jeeloo Liu
A History of Chinese of Chinese Philosophy, Vol 1, The Period of the Philosophers by Fung Yu-lan
The Way of the World: Readings in Chinese Philosophy by Thomas Cleary
Key Concepts in Chinese Philosophy by Zhang Dainian
Philosophy, Philology, and Politics in Eighteenth-Century China by Li Fu
Dialogue of Philosophies, Religions and Civilizations in the Era of Globalization, ed. By Zhao Dunhua
Book titles and image on Good Writing shown:
Media Writing: Print, Broadcast, and Public Relations by W. Richard Whitaker
An English Grammar with Exercises, Notes, and Questions by Rev. W. Allen
The Grammar of Empire in Eighteen-Century British Writing by Janet Sorensen
An Arrangement of English Grammar with… by David Davidson
The Principles of English Grammar by William Lennie
Effective Internal Communication by Lyn Smith
The Little Book on Oral Argument by Alan L. Dworsky
Speaking to Good Effect: An Introduction by Douglas G. Lawrie
Writing Remedies: Practical Exercises for Technical Writing by Edmond H. Weiss
The Wall Street Journal: Guide to Business Style and Usage by Paul R. Martin
The Chicago Manual of Style: The Essential Guide for Writers, Editors, and Publishers, The University of Chicago
Writing with Style: Conversations on the Art of Writing by John R. Trimble
The Elements of Style by William Strunk and E. B. White
The New York Times Manual of Style and Usage: The Official Style Guide Used by the Writers and Editors of the World's Most Authoritative Newspaper by Allan M. Siegal and William G. Connolly
The Economist Style Guide: The Bestselling Guide to English Usage, The Economist
Effective Writings Skills for Public Relations by John Foster
A History of English Language by Richard Hogg and David Denison
Eighteenth-Century English: Ideology and Change by Raymond Hickey
Political Book titles and images shown:
China's Security State: Philosophy, Evolution, and Politics by Xuezhi Guo
Politics and the English Language, George Orwell
The Clash of Civilizations and the Remaking of World Order by Samuel P. Huntington
On China by Henry Kissinger
The End of History and The Last Man by Francis Fukuyama
God's Empire: Religion and Colonialism in the British World by Hilary M. Carey
George Eliot and the British Empire, by Nancy Henry
A Union for Empire: Political Thought and the Union of 1707 by John Robertson
Understanding the British Empire by Ronald Hyam
Race and Empire in British Politics by Paul B. Rich
The Ideological Origins of the British Empire by David Armitage
1984 by George Orwell
Concepts mentioned:
rujiao, daojiao, fojiao, jiao, xue, jia, zhexue, shengren, tetsugaku
Key words: Western language imperialism, philosophy is a syndicate, new imperialism, cultural property theft, end of translation, Rules for Writing, Goebbels Law, lingualism