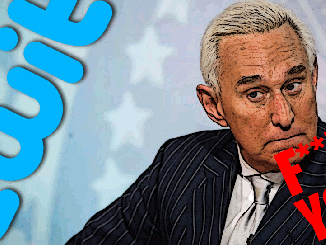 Twitter AGAIN banned conspiracy theorist Roger Stone, the legend
Roger Stone, author of 'The Making of the President', ranted off against the fake news media CNN and corrupt liberal ideologues. Twitter, meanwhile, seemed to have just waited in the trenches for Stone's latest spearhead, then shot him cold. His fan base is outraged: Twitter is a safe-haven for much more profane, radical, and even abusive accounts of liberal lunatics such as Keith Olbermann.
Facebook, Twitter, and Youtube, as all the evidences have pointed out, are colluding with the establishment and the corporate media by cracking down on Trump supporters, nationalists, and the far-right. And while censorship of free speech is a matter of course in Europe for example, many Americans believe they are born with it and protected by the first Amendment.
Whether Mr. Stone (65) gets his Twitter account re-activated or starts a new one remains to be seen. Twitter is known for its "demoralizing tactics," letting rebuild political activists their media presence before taking them down again-any time and without warning.
The Battle against Twitter censorship. Roger to Come back?
Stone is a pro-Trump political activist, and long-term co-host at Alex Jones's INFO WARS, and considered a key voice in the new US national movement: fighting the deep state, cultural Marxism, and the lying press. Twitter's move could be political motivated, and could be a missile test for the ultimate social media coup: removing the accounts of the president Donald Trump.
"Later: "@donlemon stop lying about about the Clinton's and Uranium you ignorant lying covksucker !!!! You fake news you dumb piece of s**t." He also called some CNN personalities "human excrement."

Stone lobbed personal insults at Kristol, the editor at large of the conservative Weekly Standard.

"Bill Kristol packing on the pounds #porky #Warmonger," Stone tweeted.

The tweets likely ran afoul of Twitter's TWTR, +6.75% policies against harassment and abusive behavior."
Here we go again. pic.twitter.com/T9iaFpHIiH

— Paul Joseph Watson (@PrisonPlanet) October 28, 2017
Hey @Jack, please explain the rationale for suspending Roger Stone, but not Keith Olbermann. — Signed, every conservative on Twitter. pic.twitter.com/i4JhSO5aD0

— Mark Dice (@MarkDice) October 29, 2017
Update: Twitter has removed all followers from Roger Stone and permanently banned him, per his chief of staff

— Jack Posobiec 🇺🇸 (@JackPosobiec) October 29, 2017