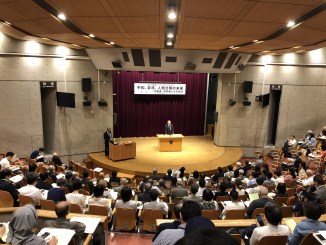 For 'Peace, Denuclearization, and the Future of Our Society' is the motto of the 2019 Sophia Symposium celebrating the UN's adaptation of the Treaty of the Prohibition of Nuclear Weapons.
It is no coincidence that Sophia University of Tokyo, a Jesuit institution, hosts this key conference. The Pope plans to visit Japan in November 2019 and is expected to comment on global denuclearization.
Two years earlier, in 2017, the Vatican held an international symposium on Nuclear Weapons Disarmament. In addition, the Nobel Peace Prize was awarded to ICAN -the International Campaign to Abolish Nuclear Weapons.
The founding member of ICAN, Tilman Ruff, attends the conference. His talk is well-phrased and stunning. Indeed, what "a small group of people can achieve with a vision, with a plan, with patience, with persistence."
His key message is clear. A three-step approach: Stigmatize, Prohibit, Eliminate Nuclear Weapons. To stigmatize the possession of unacceptable weapons is the beginning; next is bringing everyone on the table and prohibit the usage of those weapons. Last step is to eliminate those weapons.
President of Sophia University reiterates his university's search "for universal humanism," while various representatives of Christianity, Buddhism, and Shinto in Japan, including ethicists and theologists, explain their angles on Denuclearization. Japan, they conclude, plays the leading role as the first and only victim of an atomic attack.
"True religion embraces peace… living together in harmony… ensuring the future of a peaceful world," tells Archbishop Joseph Chennoth in a video message to the audiences.
Kevin Clements, a leading figure in Peace Studies, outlays the 'Dangers of Nuclear War' and the 'Challenges to the Liberal World'.
Professor Ichiro Mitsunobu, a theologian, explains the Vatican and the various Popes' stance on De-Nuclearization.
The Conference is a success, visibly, and well-attended. Sophia University lies in the heart of Tokyo. A great opportunity for experts and the public to update their knowledge on the latest advancements in Peace Research that leave hope for mankind.