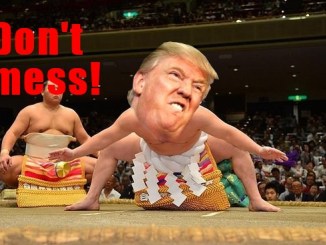 US president Donald Trump is set to state-visit Japan this Saturday. Among the pleasantries of his stay will be two events of cultural significance. First, Donald Trump will attend a Sumo wrestling match. Second, Donald Trump will meet Japan's new Emperor.
Given the loud and bragging style of the US president, many observes worry that he might misbehave during either the Sumo match or the meeting with the brandnew Emperor, or both.
For example, Japan is a floor-sitting culture which means that during the Sumo match in the first row, Trump and his wife, the First Lady, would be expected to sit on the floor enjoying the match. This is an insult to any Western president, and quite hard on the legs as well. So the Japanese side is preparing extra stools for the foreign guests.
Also awkward, Trump is preparing a 'Trump trophy' for the winner of the match. It sounds nice, but a lot could go wrong in the process. That said, the Trump visit is expected to raise Sumo awareness on a global scale.
Last, Trump's visit with the new Emperor, Naruhito, will be a show piece extraordinary. It's the first state visit of a foreign leader for the Japanese supreme being. Foreign presidents are not expected to touch, buddy, kiss, or hand shake the divine man. We'll see how obnoxious Donald Trump is handling the situation.
What's you opinion on the Trump state visit to Japan? Was it successful, did he blunder? Don't be shy and leave a comment!