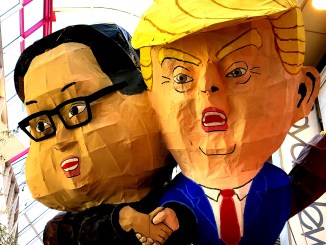 "New Year's Warning: North Korea threatens 'new path' if U.S. keeps up 'demands'" -CNN
The biggest story in politics gets torched. Why?
Journalists hardly want to admit it but the summit between North Korea's dictator Kim Jong-Un and the president of the United States is a Donald Trump personal. He initiated it. He is above the malice and contempt of the Western media.
The media surely would have preferred to black out the meeting of the two leaders at Hanoi in Vietnam altogether, yet 'the Trump' played the event so hard on his Twitter handle that the Western toilet media had no alternative but to report it non-stop. Accordingly, and because no one knows what's going on exactly, the gossip started to set in.
"What is up with Trump's relationship with Kim Jong Un?" -MSNBC
In this case, the usual hyper gossip in which every man of letters feels entitled to predict the bleak future, entitled to eye-popping headlines, entitled to abstruse conspiracy theories, entitled to outlandish fake news.
"Trump on Kim Jong-un: 'We fell in love'" -BBC
That all mixed in with plagiarism because most journalists of course simply don't know a thing and have to plagiarize or paraphrase from each other: a giant heap of unbelievable news garbage and, in the special case of Donald Trump, a pile of vulgar hit pieces on the US president.
"It remains unclear what kind of concessions the US president will make in order to secure a public relations success - and distract him from his scandals." -Der Spiegel
Hanoi in Vietnam was allegedly picked to remind the North Korean leader of the US war in Vietnam and how capitalism worked wonders. Donald Trump allegedly urged prime minister of Japan Shinzo Abe to recommend him for the Nobel Peace Prize for this meeting. Donald Trump allegedly called the dictator "a good friend." A Kim Jong-Un impersonator had to be deported from Vietnam before the meeting. An order of 90,000 vodka bottles for the North Korean leadership was confiscated at the Russian border. The US president thinks Asian dictators are more important than Western allies. They way they go on!
The National Interest knows "what Kim really wants." The Economist already knows what to expect: "expect a bad small deal" showing Donald Trump's tiny hand. The German Times snouts: "Kim above all wants to survive." The Washington Post gets into a fit because the president offer the dictator a "public embrace" and that "Kim Jong Un has played Trump like a Stradivarius." The New York Times complains that "four journalists were barred from reporting from the two leader's dinner table."
Well aren't journalists the world's most privileged whiny bunch. All those negative stories aimed at insulting and ridiculing the two leaders remind us again that our media want failure or escalation of conflict more than anything else, want a breakdown of these peaceful talks, simply because positive stories don't sell as much.