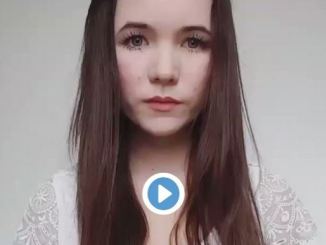 A female activist speaks out against a controversial remark by President of Austria, Alexander Van der Bellen, who said the following: "Islamophobia […] the day will come when we will ask all women, ALL WOMEN, to wear a head-scarf out of solidarity for those women who wear it for religious reasons." Her response video is down below [please click the image]:
Meine Antwort an #vdb #wehrdich #nichtmitmir pic.twitter.com/sno5fIHgeZ

— Alina von Rauheneck (@Alina_Rauheneck) April 26, 2017
Alina von Rauheneck [real name: Alina Wychera] belongs to the so-called identitarian postergirls or "#identitariangirls:
"Europa." The name and the narrative of our uniquely beautiful continent are not dedicated to a woman for nothing. The defense of Europe is therefore especially a matter for women too! We love our homeland, our culture and traditions. We do not need gender madness and feminism hysteria for self-realization. We are proud to be European women who defend side by side with their men Europe! #europa #identitariangirls #identitär #phalanxeuropa
Please visit Alina's blog on Tumblr.
Please follow Alina on Twitter.