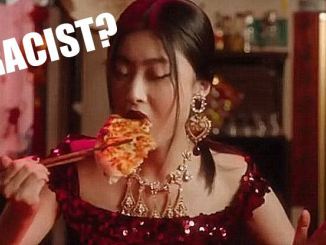 DOLCE AND GABBANA ROASTED OVER RACIST TV AD
Unbelievable Western racist and disrespecting ad-campaigns are useful to grab attention in Asia. Therefore, large business like Dolce & Gabbana, the Italian fashion label, thought it wonderful to shame and belittle Chinese culture. It aired an ad on how Chinese people supposedly eat pizza, with chopsticks, and wonder, as if to show Chinese backwardness and silliness. The ad's mission: To shame Chinese culture that only by buying D&G products they can have grand (Italian/Western) civilization. Oh dear.
"How to use these little sticks to eat our traditional margherita pizza? No, no, no, not like this. Yes, like this!" —D&G ad
CRIES FOR BOYCOTT AND MORE
The ad campaign backfired grand scale. The scandal ended up on prime-time TV and national news channels, after millions of mainland Chinese and overseas Chinese burned or trashed their D&G products. Chinese social media exploded over the issue. [And if you keep a cool head and look at the D&G ad, you will see, too, that is was intentional racist to provoke a reaction.]
WESTERN MARKETING STRATEGIES UNDER FIRE
At the time of writing, it is unclear whether D&G will extend profits long-term in China. It will probably increase its profits in Europe immediately, where China is seen as childish and over-reacting. As of now, its fashion show in Shanghai is cancelled, which in hindsight could also be good public relation coop. The company apologized at once, but it seemed insincere. [It is precisely the purpose of ads to grab attention at all costs.]
INTERNET POLICE GREENLIGHTS ANTI-WESTERN BACKLASH
China's government, meanwhile, didn't stop the cultural backlash in Chinese social media, as if to punish the racist D&G label so much longer. Diplomats say they don't want this issue to become foreign policy. Many Chinese feel that Western hatefulness towards other cultures goes too far. China was semi-colonized by European powers, but not Italy, in the 19th and 20th century.