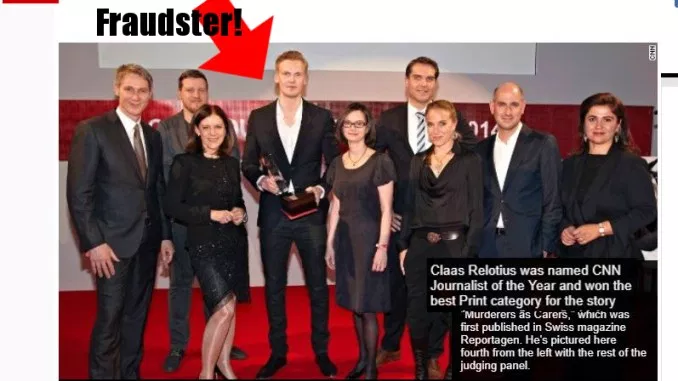 The journalist profession is colluded down to its last fibers, cramped up with con artists, fakers, and press soldiers. They invent story details, characters, interviews. They cross-reference each other and give each other "prizes" and "awards." Over the years, a qua criminal network evolves.
So it happened in the cause Claas Relotius, a German fraud and faker, who was given up a leg by CNN, the American "Crap News Network." The Network awarded Relotius the CNN Journalist of the Year award without him ever been working for CNN. Now, 4 years later in hindsight, the award is a disgrace to CNN.
"The case has recalled other cases of fabrication in journalism, including those by Stephen Glass, a magazine writer whose inventions were found out in 1998; Jayson Blair, a New York Times reporter who resigned in 2003 after editors discovered "frequent acts of journalistic fraud"; and Janet Cooke, a Washington Post reporter who won a Pulitzer Prize in 1981 for an article the paper later determined to be untrue."-New York Times
Relotius was finally exposed in Germany in December 2018 as a lifelong fraud and journalist misfit. CNN obviously has helped him to pursue and perfect his criminal career up to that point.
"His work had received awards from CNN, but a CNN spokesperson said, 'Relotius was not associated with CNN, he never worked for the company and never had anything published on CNN platforms.'"-CNN
When will we see a major clean-up in the journalist profession? Claas Relotius is just another reminder that the fake news media are never to be trusted.